Iran's Khamenei praises Egyptian protesters, declares 'Islamic awakening'
Ayatollah Sayyed Ali Khamenei, Iran's supreme religious leader, addressed Egypt's protesters in Arabic on Friday, calling President Mubarak a 'traitor dictator' who has betrayed Egyptians.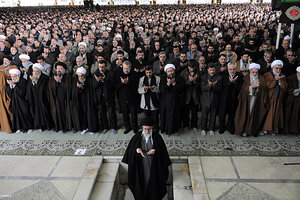 leader.ir/Reuters
Iran's supreme religious leader spoke out about Egypt's antiregime protests Friday, declaring an "Islamic awakening" across the region that is resulting in the "irreparable defeat" of American and Israeli influence.
Ayatollah Sayyed Ali Khamenei, addressing Egyptians in Arabic after delivering the Friday prayer sermon in Tehran, portrayed himself as "your brother in religion," while praising the "explosion of sacred anger" and warning against any US role in the outcome.
Describing close US ally President Hosni Mubarak as a "traitor dictator" who is working for Israel and guilty of "great betrayal" of Egyptians, Ayatollah Khamenei said the regime-changing events in Tunisia and now Egypt were natural extensions of Iran's own Islamic revolution in 1979.
Perhaps not surprisingly, Khamenei made no comparison between Egypt's current people-power protest and the 2009 uprising of Iran's own pro-democracy Green Movement. Several million Iranians took to the streets at the time, demanding political reform and freedoms, and calling Khamenei a dictator and burning his portrait, only to be forced from public view by a lethal crackdown.
---