How Syria dodged an Egypt-style 'day of rage'
Outside opposition groups had called for protests in Syria over the weekend. Why did only security forces and hopeful journalists show up?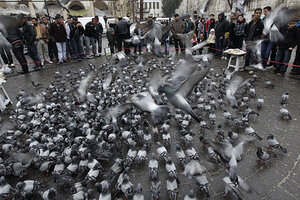 Hussein Malla/AP
Swaths of plain-clothed security forces and hopeful journalists were the only people gathered at the parliament building in Damascus on Friday and Saturday as protesters failed to respond to calls for demonstrations in the Syrian capital.
Outside opposition groups, including the Muslim Brotherhood, which has been banned since an uprising in the 1980s, had tried to rally Syrians to protest against President Bashar al-Assad, who has ruled the country with a firm hand since the death of his father, Hafez al-Assad, in 2000.
But Syria appears to have dodged the "winds of change" in the Arab world that have led to mass popular protests in several countries. The extensive security apparatus effectively nipped any possibility of protests. But geopolitical factors as well as local support for Assad also make any imminent challenge to his ruling Baath Party, which has been in power since 1963, unlikely.
"The security forces have effectively suppressed civil society and scared people into submission," says Mazen Darwish, a prominent Syrian activist who ran the Syrian Center for Media and Freedom of Expression until it was closed by the authorities in 2009.
---