Egypt protests: Muslim Brotherhood's concessions prompt anger
Egypt protests have sought Mubarak's removal. The Muslim Brotherhood suddenly dropped that demand in talks Sunday, angering participants in Egypt protests and causing an apparent split in the group's ranks.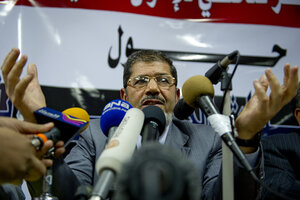 Ann Hermes / The Christian Science Monitor
Three senior leaders of Egypt's Muslim Brotherhood, all of whom have suffered arbitrary imprisonment and torture at the hands of President Hosni Mubarak's regime, sat shoulder to shoulder at a press conference in what should have been a moment of great triumph.
Two Brothers had just come from the group's first formal talks ever with a government that has hounded the Brotherhood, Egypt's oldest and best-organized opposition group, for generations. Along with secular democracy activists and reform-minded tycoons, they sought to present a united front for reform to Vice President Omar Suleiman, the former spymaster whose career was largely built on crushing Islamist movements.
But the moment had a hint of anticlimax. The Brotherhood backed off its demand that Mr. Mubarak step down immediately and make other concessions, for apparently little concrete in return. Suddenly, the one clear demand uniting them with the youths in Cairo's Tahrir Square – Mubarak's resignation – was gone.
The Sunday afternoon talks drew outrage in the square, where protesters described the Brothers' concessions as helping the establishment buy time and find a way to preserve one-party rule here beyond September elections, in which Mubarak has promised not to run. They also expressed concern that Mr. Suleiman was leading the reform movement into a trap.
---