Refugees forced back to a still-violent Iraq, prompting criticism of European policy
Three days after Ali Jassim Mohammed returned to Baghdad to get documents for his Swedish residency application, he was caught in a bombing on his way to the passport office.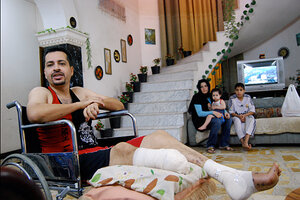 Jane Arraf/The Christian Science Monitor
Working with American media, Ali Jassim Mohammad became used to documenting the misery of Iraqis caught in war. And then he became one of them, in a tale that stretches from Baghdad to Sweden and back, and underscores the growing problem of European nations deporting Iraqi refugees to a homeland still wracked by violence.
Mr. Mohammad, who studied filmmaking in college in Baghdad, was a driver and photographer for Knight Ridder newspapers, later bought by the McClatchy chain.
In the midst of Iraq's civil war, he was a driver and photographer, and like other Iraqis working for foreign news organizations, the eyes and ears of Western reporters who couldn't travel as freely. His neighborhood was controlled by Al Qaeda in Iraq and every time he left his house, he didn't know whether he'd be alive to return home in the evening.
RELATED: Sweden, EU clamp down on Iraqi refugees
In 2007, as the list grew of friends and relatives killed in the war, Mohammad decided to leave. He took the convoluted and precarious path of many asylum seekers – a fake European passport, transit through Iran to Europe, and then on to refuge Sweden.
"In 10 or 11 months I got the Swedish residency and to be honest, in Sweden they took better care of me than my Iraqi government did," he says.
Back to Baghdad, where tragedy strikes
---