Egypt crisis: What role will Omar Suleiman play?
Egypt's Vice President Omar Suleiman, who addressed Egyptians after the televised speech of President Hosni Mubarak Thursday, urged Tahrir Square protesters to 'go home.' It is unclear how much power Suleiman now wields.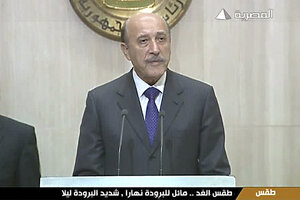 Egyptian State TV/Reuters
Egyptian President Hosni Mubarak today said he was apportioning a measure of power to his vice president, Omar Suleiman, in his latest attempt to quell weeks of demands for his resignation from protesters and growing pressure from Western governments. But debate is swirling over exactly how much authority he is ceding to his vice president.
Mr. Mubarak proclaimed in a TV address – in which many had expected him to announce his resignation – that he was staying at the helm until elections in September and would "not accept or listen to any foreign interventions or dictations."
Many among the crowds at central Cairo's Tahrir Square were skeptical of any regime effort to mollify protesters without delivering real change in the form of Mubarak stepping down.
"I think they're just playing for time, and I'm worried that they're setting the stage for the military to suddenly strike at us," says Mohammed Hawas, a businessman who ran for president in 2005 and seeks to run again in September elections. "None of us should go home before the regime is swept away."
While reports had swirled ahead of the speech that Mr. Suleiman would be taking Mubarak's place to lead the country through a political transition, the announcement tonight potentially sets Mubarak on a collision course with angry protesters.
---