Egyptian protesters in Tahrir split on whether Mubarak's exit would be enough
Some Egyptian protesters amassed in Cairo's Tahrir Square fear Mubarak's regime is just trying to buy time.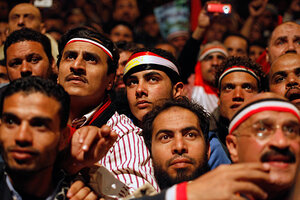 Goran Tomasevic/Reuters
As more than a hundred thousand Egyptians poured into Cairo's Tahrir Square in anticipation of President Hosni Mubarak's televised speech, there were very clear rifts among the protesters about whether the regime would fulfill its promise to "meet their demands" tonight.
The military's Supreme Council met today for only the third time in Egypt's history, taking over the country and raising speculation to a fever pitch that Mr. Mubarak would announce the end of his 30-year regime.
Some say such an announcement would impel them to return home, but others caution against a ploy by those at the top levels of Mubarak's government.
"I think they're just playing for time, and I'm worried that they're setting the stage for the military to suddenly strike at us," says Mohammed Hawas, a businessman who ran for president in 2005 and seeks to run again in September elections. "None of us should go home before the regime is swept away."
For Mr. Hawas and others, it's not enough for Mubarak to step down – especially if a regime stalwart like Vice President Omar Suleiman were to take the reins.
"Yes, it's Mubarak, but it's the system, too," says Ahmed Dadr, a soft-spoken student who said he was exhausted from participating in street battles with the police. "Getting rid of Mubarak and keeping the system means the revolution hasn't succeeded."
---