In Egypt's Tahrir Square, celebration grinds to a halt with Mubarak's speech
More than 100,000 Egyptian protesters gathered in Tahrir Square to celebrate what they believed would be President Mubarak's resignation. Instead, his defiant televised speech left many angry or in tears.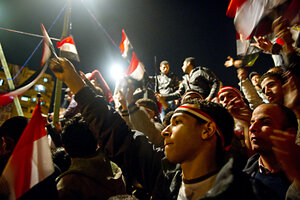 Ann Hermes/Staff
One of the greatest street parties Egypt has ever seen, with at least 100,000 people packed into Cairo's Tahrir Square chanting, singing, and insisting that this would be a day they'd remember for the rest of their lives, suddenly ground to a halt.
At around 10:45 pm local time, President Hosni Mubarak went on national television after a day in which the country's senior military gathered in conclave for only the third time in the country's history and came out with a statement that lacked strong support for the embattled leader.
During the day a senior member of Mubarak's ruling party hinted that he would resign, and NBC and Al Jazeera cited unnamed sources as saying Mubarak would be gone by the morning.
The boisterous crowd hushed, thousands of heads cocked in quizzical listening fashion as they strained to catch Mubarak's droopy voice, made spectral by the crackling and echoing sound systems.
Mubarak insists he must soldier on
As Mubarak went on, the crowd began to stir and share disbelieving looks. Tears began to quietly stream down a young woman's face. Spontaneously, men began to take off their shoes and lift them in the air at Mubarak, a symbol of extreme disrespect and contempt in Arab culture.
---