Is Mubarak out? Is Suleiman in? Is this a military coup?
Conflicting reports make it difficult to understand what Egyptian President Hosni Mubarak has in mind for his address to the nation tonight – but it's clear that it's something big.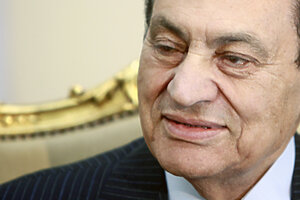 Amr Nabil/AP
• The following is a roundup of online reports.
Is Egyptian President Hosni Mubarak heading out the door? US officials and the media are saying yes (probably), following an announcement Thursday that President Mubarak will address the Egyptian people tonight.
Talking Points Memo reported that CIA Director Leon Panetta told a US House of Representatives Intelligence panel that there is "a strong likelihood that Mubarak may step down in Eqypt tonight." Mr. Panetta also said that Mubarak will likely hand over power to Omar Suleiman, who was recently appointed vice president and met with Mubarak following the announcement of his address to the nation tonight, according to CNN in an 11:58 a.m. EST update.
However, CNN also reported at 12:08 p.m. EST that an Egyptian government official said Mubarak plans to hand over power to the Egyptian military, which would give the government a pass on following the Constitution's provisions for succession and other relevant issues. (The same official said that this is "not a coup in the traditional sense.")
According to the Egyptian Constitution, if a president steps down before his term is up, the speaker of the parliament steps in as acting president until elections can be held – not Suleiman, and not a member of the Egyptian military.
---