After Mubarak's ouster, Egypt's days of revolt shift to party of vast proportions
Moments after Egyptian President Hosni Mubarak's resignation was announced Friday, protesters who had gathered outside his official residence in Cairo erupted in joy.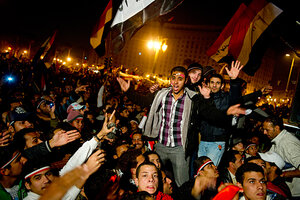 Ann Hermes / The Christian Science Monitor
Thousands marched to Hosni Mubarak's official residence early this afternoon, their resolve stiffened by the longtime leader's refusal the day before to leave office.
By 5 p.m., field hospitals and tented compounds like those in Tahrir Square had been set up, and the demonstrators were settling in. They didn't wait long. In the early evening, Vice President Omar Suleiman's terse statement announcing Mr. Mubarak's departure filtered through the crowd. They erupted with unbridled joy.
Screams of "he's gone, he's gone" came from all directions. Crying, hugging, shouts of "mabrouk" (congratulations) filled the crowd. A small boy yelled, "come to me freedom." Organized chants of "it's done, the people brought down the regime" followed. Cars honked and Egyptians flooded the street.
Within moments, it seemed, the tents started to come down and the protesters began to spread in every direction, merging into larger and larger crowds. Similar scenes were repeated across Cairo and in dozens of cities around the Arab world's largest country.
---