As Mubarak resigns, Yemenis call for a revolution of their own
Thousands of secessionists protested in Yemen today in an example of how disparate movements across the Middle East are tapping the anti-regime fervor for their own disparate aims.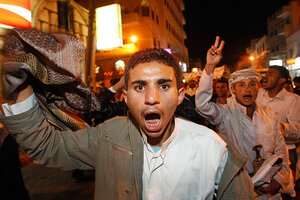 Khaled Abdullah/Reuters
As jubilant protesters in Cairo celebrated the ouster of Egyptian President Hosni Mubarak, Yemenis were calling for a revolution of their own.
In the southern port city of Yemen, protesters marched through the district of Mansoura, waving the old flag of South Arabia and chanting, "Revolution, revolution for the south."
Just hours before, security forces had fired live ammunition during a protest on the same street, according to eyewitnesses. Hundreds more staged ad hoc demonstrations throughout Aden, as well as in other cities across Yemen's south.
"After Hosni Mubarak, Yemen is going to be next. I know it," said Zahra Saleh, a prominent secession activist watching the scenes in Cairo on TV in a small Aden office.
"Now our revolution has to be stronger," declared Ali Jarallah, a leader in the southern separatist movement sitting with Ms. Saleh on the low cushions of a diwan.
Divergent aims of Yemeni protesters
The Yemeni southern secessionist movement is not calling for political reforms, an end to corruption or even for President Ali Abdullah Saleh to step down, as the political opposition is doing in the capital of Sanaa. They are pushing for the end of what they view is northern Yemeni occupation and the restoration of an independent southern Yemeni state.
---