Israel fears loss of a crucial ally with Mubarak's fall
Israel is concerned that the ouster of Egyptian President Hosni Mubarak will give rise to the Muslim Brotherhood and create an 'encirclement' of hostile states.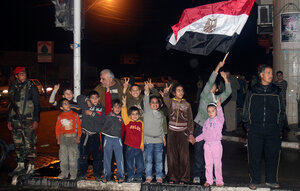 Adel Hana/AP
While Egyptians are celebrating President Hosni Mubarak's ouster after 18 days of protest, Israelis are increasingly concerned that his departure will empower the Islamist Muslim Brotherhood and threaten Israel's longstanding peace treaty with Egypt.
Analysts in Israel are warning that the power vacuum left behind by Mr. Mubarak could eventually lead to the rise of the Brotherhood, one of the minor players in the predominantly secular protest movement that led to the end of Mubarak's reign. They worry that could create an Egypt that is antithetical to the Jewish state.
The Muslim Brotherhood, which was founded in 1928, has established its popularity through social and charity institutions and performed well in the 2005 parliamentary elections before the regime stepped in to limit its gains.
''If there is a free election I don't see how they can be stopped,'' says Eli Shaked, former Israeli ambassador to Egypt. The Brotherhood's success, he says, would boost Islamists throughout the region, including in Jordan, where antigovernment protests have been inspired by the protests against Mubarak.
''The Muslim Brotherhood has already said they won't be committed to the peace treaty. I don't see a military conflict with Israel. But the whole regional order of the last 30 years will be totally shattered,'' Shaked says.
---