As Egypt tumult spreads, top Palestinian negotiator, Saeb Erekat, resigns
The resignation of top Palestinian negotiator, Saeb Erekat, comes as the Palestinian Authority has called for new elections in the wake of the people's revolution that overthrow Egypt's Hosni Mubarak.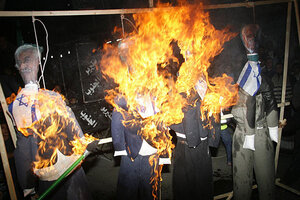 Eyad Baba/AP
Top Palestinian peace negotiator, Saeb Erekat, has resigned after embarrassing depictions in media leaks of his posture towards Israel, saying he hopes his stepping down will set a model of transparency for the young Palestinian state-in-the-making.
Mr. Erekat has been a key player in negotiations with Israel since the 1991 Madrid Peace Conference. But he said he bore personal responsibility for classified documents being ''stolen from my office'' so that they could be ''tampered with'' and used in broadcasts of the Al Jazeera satellite channel to show the Palestinian Authority (PA) making unprecedented concessions towards Israel.
''I can't advocate accountability and transparency all my life and then comes the biggest breach in Palestinian national security – the stealing of the documents from my office – and let it be business as usual,'' Erekat tells the Monitor. ''What I want to do is plant the seeds for the future of Palestinian officials. When officials make mistakes, they are out.''
The resignation comes at a time when the Egyptian revolution that overthrew former President Hosni Mubarak is sending tremors through the Middle East. Palestinian officials say the Egyptian revolution will add fuel to non-military Palestinian protests against Israel such as already take place against the separation barrier in the West Bank. And the Palestinian Authority announced Saturday it would hold new legislative and presidential elections by September, a step that had been expected but whose timing appeared to be triggered by the ouster of Mr. Mubarak.
---