Egypt revolution: With a military junta in charge, now the politics start
Among the protest leaders, two camps are emerging. One wants to present its demands to the military junta, the other wants to continue the massive street protests as well until all demands are met.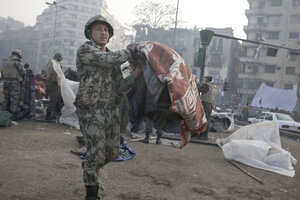 Tara Todras-Whitehill/AP Photo
The sun sets Saturday night over Cairo's Tahrir Square. Fading light streams over a joyous celebration that hasn't paused for a day and a half since street protests forced longtime President Hosni Mubarak from office.
From a ninth story apartment that served as one of the information centers of the Egyptian revolution, a group of young Internet activists huddle with older men and women who have been pushing for democratic change in Egypt for most of their adult lives.
At least three similar meetings of the loose coalition of young techies, socialist revolutionaries, Muslim Brotherhood youth activists, and human rights activists that helped bring down Mr. Mubarak are going on at roughly the same time around town. There are undoubtedly many more.
These are the strategic centers of Egypt's leaderless revolution and theme of the meetings is: What next?
Two principal camps are emerging. One wants to approach the military junta that took command of Egypt on Friday afternoon with a unified list of demands, including replacing Mubarak's last cabinet as quickly as possible. Others want to maintain the protest momentum as well, keeping the pressure on the generals to deliver democratic reform, and fast. But the second option carries risks with a military that needs to maintain order and feels that it has already been extremely responsive to the people's desires.
---