Egypt revolution: Protesters vow to keep pressure on military
Protest organizers are now calling for a million-man march on Friday to remind the new military rulers who's really in charge in Egypt's revolution.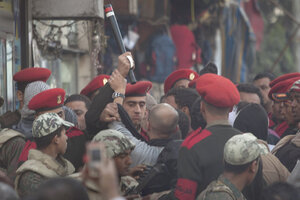 Emilio Morenatti/AP Photo
A coalition of activists, Internet organizers, and opposition political groups that formed the backbone of the Egyptian revolution joined the country's new military rulers today for a "getting to know you meeting." They promised to hold the new regime's feet to the fire on political reform.
"The military is more or less trying to meet with all of the groups involved at this point," says Ahmed Naguib, a member of the board of the Coalition of the Youth of the Jan. 25 Revolution. "The meeting was just to tell them that a lot of demands have not been met yet. That's why we're calling for a million-man march on Friday, to remind them that sovereignty is back with the people for good."
Egypt is in a period of incredible political ferment, with the military promising to usher in the substantive democratic reform that hundreds of thousands of Egyptians demanded on the streets of Cairo and beyond.
But the military, an integral part of former President Hosni Mubarak's regime, faces skepticism from some in Mr. Naguib's umbrella group – as well as a potential challenge from laborers who have launched a series of strikes to capitalize on the revolution's momentum.
---