Iraqis stage Valentine's Day protest over government corruption, poor services
The Valentine's Day protest came amid reports of a man in northern Iraq killing himself in an apparent copycat self-immolation – the same dramatic act that galvanized popular discontent in Tunisia.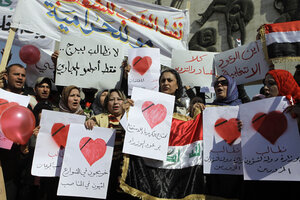 Karim Kadim/AP Photo
Several hundred Iraqi activists marked Valentine's Day with a protest for better services and governance in Baghdad on Monday, the latest in a series of small demonstrations across Iraq inspired by protester-driven upheavals in Egypt and Tunisia.
While most protesters here aren't aiming to topple the government – one that Iraqis voted for, despite its imperfections – they continue to complain of chronic corruption and lack of services.
"It's time for the government elected by the people to keep its promises and deliver," says Nour al-Qaisi, a journalist and student who held a cloth red rose in her hand as she marched.
Political deadlock meant that Iraqis waited nine months after elections last March for a new government to be formed by Prime Minister Nouri al-Maliki. Eight new ministers were approved by Iraq's parliament only on Sunday, and key security and intelligence portfolios still await appointments.
"We know many members of parliament and high-ranking officials make up to [$75,000] per month, while many poor Iraqis can hardly put bread in their mouths," says Ms. Qaisi. "I am here to demand the rights of my people."
Protesters gathered across the Tigris River from the Green Zone, carrying signs and chanting for reform. The crowd raised their voices especially loud at the words: "Oh my homeland! They are all thieves!"
---