Bahrain emerging as flashpoint in Middle East unrest
The kingdom of Bahrain, a key base for US military operations in the region, faces its third straight day of protests as Sunnis and Shiites unite to demand political reform.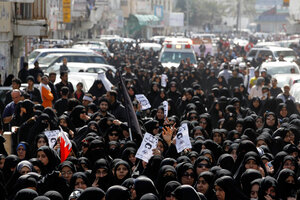 Hamad I Mohammed/Reuters
UPDATED Feb. 16 at 8:50 a.m.
Bahrain is emerging as a key focal point in the unrest sweeping across the Middle East, as protesters staged a third straight day of demonstrations today and vowed to bring at least 50,000 to the streets on Saturday.
After the fall of secular dictators in Tunisia and Egypt, democracy movements across the Persian Gulf now face a sterner test as they confront autocratic monarchs such as Bahrain's King Hamad bin Isa, whose ruling Al Khalifah family has held absolute power for more than two centuries.
The king made a rare apology yesterday for the death of two protesters in clashes with police earlier this week, and promised to set up a committee to investigate the killings. The kingdom's Sunni rulers, who face an increasingly restless Shiite majority, have also promised grants of $2,500 to each family and an increase in food subsidies.
But antigovernment protesters are insistent in their demands, which include political reform and improved human rights in the diminutive Persian Gulf kingdom. The country's political opposition has suspended its participation in parliament, and hundreds of protesters today occupied a central square in Bahrain's capital, Manama.
---