Fissures emerge among Egypt's protest leaders, jeopardizing victory
Just five days after toppling Mubarak, Egypt's protest leaders are split on how to proceed. Some say the military is pursuing a 'divide and conquer' strategy.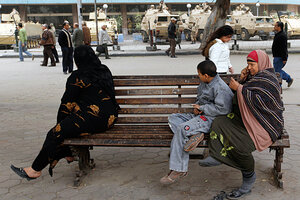 Hussein Malla/AP
For more than two weeks Tahrir Square in central Cairo was the focal point of the Egyptian revolution, a sacred place where swelling crowds of protesters overturned three decades of government efforts to divide the Egyptian people.
Again and again, protesters at Tahrir spoke of the feelings of unity and brotherhood, of pride restored in being Egyptian and Arab. A simple set of demands – the dictator Hosni Mubarak out, fair elections, a reformed constitution and a rejection of fights over ideology – saw tens of thousands of previously apolitical Egyptians join hands with the country's small core of long-standing reformers.
And then, at almost the moment of victory, it all started to come apart, even as Egyptians' success was inspiring democracy activists in Libya, Bahrain, and Yemen.
Now, just five days since Mubarak was forced to step down, the rank-and-file among protesters have deserted Tahrir and bickering has broken out among protest leaders.
'Divide and conquer' strategy?
Critics say Egypt's military, which took direct control of the country for what it insists will be a maximum of six months before restoring civilian rule, is seeking to exploit the divisions.
---
Follow Stories Like This
Get the Monitor stories you care about delivered to your inbox.