Israeli government to organize school field trips to West Bank
Israel plans to take high school students to a religious site in Hebron that is revered by both Muslims and Jews and was the scene of a 1994 massacre that killed 29 Palestinians.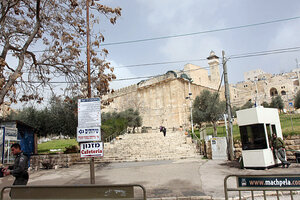 Nasser Shiyoukhi/AP
The Israeli government plans to begin organizing high school field trips to a contested West Bank religious site in a move that could reignite tension over a historic flash point in the Israeli-Palestinian conflict.
The initiative, announced yesterday, could bring hundreds of thousands of Israeli teens to Cave of the Patriarchs in Hebron, revered in Judaism as the burial site of the biblical figures Abraham, Isaac, and Jacob. Muslims revere the same compound for its ties to Abraham, referring to it as the Ibrahimi mosque after the man they look up to as a prophet.
While the trips aren't mandatory, Israel says the initiative is an effort to encourage a greater understanding of Jewish history among Israeli students. But the trips could also been seen by Palestinians as a sign of growing political support for West Bank settlers.
The plan, announced by Education Minister Gideon Saar, a close ally of Prime Minister Benjamin Netanyahu, comes as the Israeli-Palestinian peace process remains frozen after breaking down over the issue of Israeli settlements. Palestinian and Israeli critics of the move say it further underscores that the Netanyahu government prefers settlements to peacemaking.
---