Yemeni president tries to avert revolution as protests escalate
Rival protesters clashed in Yemen's capital today, with police firing live ammunition into the air.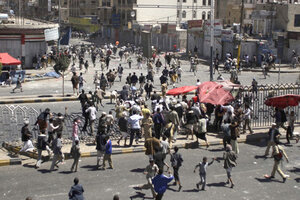 Khaled Abdullah/Reuters
Editor's note: This story was updated on Thursday, Feb. 17, at 10:10 a.m.
Protests in Yemen's capital escalated today as thousands opposed to President Ali Abdullah Saleh's regime clashed with pro-government demonstrators at a busy Sanaa intersection.
Both sides threw large stones and pieces of concrete at each other, and police shot live ammunition into the air. The opposition protesters, mostly students in their 20s, blocked their side of the street with tires set ablaze. The standoff lasted for about two hours until pro-government thugs descended on the demonstrators with sticks and pieces of broken metal.

"They've been throwing rocks at us all week, but today ... we fought back. We decided that we are going to defend ourselves," says Osama al-Asiri, an accounting student taking refuge inside the entrance of a house after he was struck with a piece of concrete. "This is a pure youth revolution."
Many are not convinced that an Egypt-style revolution can come to this impoverished country with a divided and disorganized opposition. As leaders across the Middle East feel the tremors of Egypt and Tunisia's uprisings, however, Yemeni President Ali Abdullah Saleh has launched a campaign to stave off revolution in his country.
---