Egyptians pack Tahrir, reveling in victory – and bringing new demands
At a huge rally in Cairo's Tahrir Square Friday Egyptians said they aren't going to ease up 'until all our demands are met.'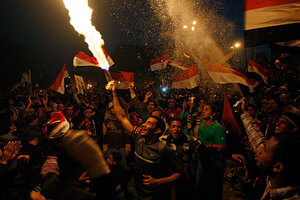 Khalil Hamr/AP
Egyptian flags waved high under the afternoon sun as thousands gathered in Cairo's Tahrir Square for a day of prayer and protest. The sea of men, women, and children spreading across downtown Cairo was reminiscent of 18 days of demonstrations that resulted in Egyptian President Hosni Mubarak's ouster.
But Friday's display of unity was somewhat different; Egyptians gathered to celebrate Mr. Mubarak's resignation and voice a list of demands to several government authorities, rather than just one.
"One of our demands was met, which was to have Mubarak step down," says Hoda Youssry. "But we are going to be in the square until all our demands are done."
Ms. Youssry sat with a group of Egyptians who have protested in the square for weeks. Now they are writing a list of new demands, 35 in total, that they are calling the second part of their nation's revolution.
"Egyptian people are like the genie who came out of the lamp and who have been in prison for 30 years," says Youssry. "We are not going back in until all our demands are met."
Other groups of protesters moved around the square, some made up of more than 100 people. "We all now know that Mubarak and his gang are going to try to control the country from back doors," says Ahmad Radwan, who held a sign with a list of seven demands on one side and rainbow-colored bubble letters on the other. "We are here to voice our demands directly to the military."
---
Follow Stories Like This
Get the Monitor stories you care about delivered to your inbox.