Bahrain protesters reoccupy square, while Libya protests continue
Jubilant and newly confident Bahrain protesters poured back into Pearl Square Saturday after the Army withdrew. In Libya, protests were met with deadly force and Internet access was cut.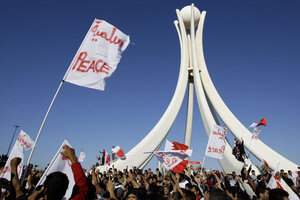 Hassan Ammar/AP
The Bahraini Army pulled out its tanks and police withdrew their forces from the main demonstration site Saturday, allowing thousands of jubilant protesters to pour back to what they called "their land" just one day after violent clashes.
But whether the sight of cheering, crying, and grateful Bahraini protesters pouring into Pearl Square was the beginning of negotiations between the monarchy and the opposition groups or a pause between clashes remained unclear. Even as they chanted "we are victorious," some protesters wondered whether they were being set up for an ambush by a military that was plotting to return.
Regardless, the sight of forces relinquishing control of the heavily fought-over square gave them a sense of confidence not seen since the protests began nearly a week ago.
RELATED: Countries in the Middle East where the 'winds of change' are blowing
As they ran toward the square Saturday, protesters vowed to stay and indeed started preparing for a long battle. They waved flags even as they set up tents to spend the night. They blasted chants from their loudspeakers as they collected rubber bullets to prove that the Army fired on them the last time they were here. They cleaned up bags of onions left for protesters to use if they were struck by tear gas and instead set up an on-scene medical hospital.
The opposition had said it would not consider an offer by King Hamad bin Isa Al Khalifa for national dialogue until the military left the streets. The troops began pulling out of the square around 12:30 p.m. and the police moved in. At 3:25 p.m., police officers got into SUVs and drove off in dramatic fashion. A line of more than 60 vehicles drove off together to the loud cheers of protesters who had not been blocked from entering the square.
---