How a broken social contract sparked Bahrain protests
The Bahrain protests go beyond the sectarian prism of Sunni versus Shiite. The ruling Al Khalifa family has been unable to provide Bahrainis the kind of interest-free loans and medical care that some of their neighbors have enjoyed.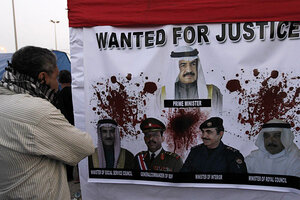 Hasan Jamali/AP
It's known as the "river to the people."
The longstanding social contract among many countries in the Persian Gulf is simple: the ruling monarchy offers free housing, health care, education, food subsidies, and a government job for life. In return, the people defer to a system of tribal autocracy that gives little or no political representation to the masses.
In short, lucre begets loyalty, and vice-versa.
But the current protests in Bahrain indicate that, in the eyes of much of the population, King Hamad bin Isa Al Khalifa has failed to keep his side of the unwritten social contract that binds the Gulf Cooperation Council's six sheikhdoms of Bahrain, Kuwait, Oman, Qatar, Saudi Arabia, and the United Arab Emirates.
Today, the "river to the people" is no longer flowing to all segments of society, with powerful consequences for the region. An estimated 10,000 Shiite protesters packed into Pearl Square in the capital Monday, continuing a week of deadly protests calling for democratic reforms from the Al Khalifa ruling family, who have ruled the Arab world's smallest nation for more than two centuries. Neighboring Saudi Arabia has called for calm, even as its own Shiite population appears restless.
---