In Saudi Arabia, reformers intensify calls for change
King Abdullah bin Abdul Aziz is due to return tomorrow after three months away to a country where reformers inspired by Egypt are calling for greater transparency and equality.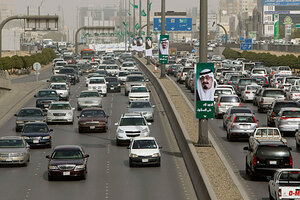 Fahad Shadeed/Reuters
When his royal jet lands here in the Saudi capital on Wednesday, ending a three-month absence, King Abdullah bin Abdul Aziz will find a nation seemingly moored in the eye of the epic storm howling around it.
But it is also clear that the octogenarian king, who went to New York in late November for back surgery and then to Morocco to convalesce, is returning to a realm touched in significant ways by the youth rebellions roiling the Middle East.
More than ever before, Saudis are openly calling for change, including political reforms. The most vociferous are tech-savvy youths who have obsessively followed their peers' historic movements, especially in Egypt, on Twitter and Facebook.
True, King Abdullah – whose oil-rich coffers provide the country with generous benefits and material development – is genuinely liked by most of his subjects. And the government is shielded by a religious culture in which rebellion is deemed illicit and public street protest considered gauche.
But those agitating for change have made the Internet their virtual Tahrir Square, with locations like #EgyEffectSA on Twitter acting as a public forum for how they see Egypt affecting Saudi Arabia.
Demands include women's vote, younger leaders
---