Saudi Arabia's King Abdullah promises $36 billion in benefits
King Abdullah returned home today to a Saudi Arabia seemingly moored in the eye of the storm howling from Libya to Bahrain. But reformers are intensifying calls for political change.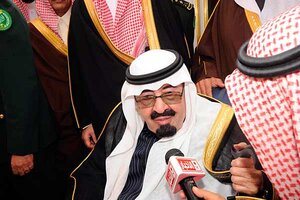 Saudi Press Agency/Reuters
After three months away, Saudi Arabia's King Abdullah bin Abdul Aziz promised his subjects billions of dollars in new benefits as he returned home today to a region roiled by revolt.
As other leaders across the Middle East scurry to appease discontented citizens, the king introduced 19 new measures estimated to cost 135 riyals ($36 billion), according to John Sfakianakis, chief economist of Banque Sausi Fransi. The measures address inflation and housing, expand social security benefits, and ease unemployment and education costs – two areas of particular concern to Saudi youths. (Editor's note: The original version of the story underestimated the cost of the measures.)
King Abdullah's nation is seemingly moored in the eye of the epic storm howling around it. But it is also clear that the octogenarian king, who went to New York in late November for back surgery and then to Morocco to convalesce, is returning to a realm touched in significant ways by the youth rebellions roiling the Middle East.
More than ever before, Saudis are openly calling for change, including political reforms. The most vociferous are tech-savvy youths who have obsessively followed their peers' historic movements, especially in Egypt, on Twitter and Facebook.
True, King Abdullah – whose oil-rich coffers provide the country with generous benefits and material development – is genuinely liked by most of his subjects. And the government is shielded by a religious culture in which rebellion is deemed illicit and public street protest considered gauche.
---