Why some Egyptians wish their revolution had never happened
Umm Karim, a mother of four, can only afford one meal per day. Her teenage sons both lost their jobs when the factory they worked in burned down in Egypt's revolution.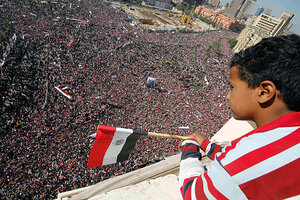 Mohamed Abd El-Ghany/Reuters/File
Even as Egypt's uprising inspires escalating protests from Libya to Bahrain, some Egyptians are beginning to wish that their own revolution had never happened.
"It's hard for me to rest because I'm feeling bad for my kids," says Said Shaban, who hasn't slept well for weeks and doesn't know how he is going to find money to feed his children dinner. "My main disappointment in the revolution is that it caused unsettlement.... Ever since the revolution started, I have not had a job. Life for me is disrupted."
Living 25 miles from Tahrir Square, Mr. Shaban wasn't involved in Egypt's 18 days of protests, or the labor strikes that have swept the country for weeks. But like others living in poor Egyptian towns far from the reaches of downtown Cairo, he is feeling the economic reverberations of the nation's massive uprising.
Egyptians are no strangers to economic woes; 40 percent of the population lives on roughly $2 or less a day, according to the World Bank. But the added strain of the revolution is casting a shadow over hopes for change in places like al-Maraziq, the bustling, dusty town where Shaban lives.
'I miss going to school'
Many in al-Maraziq, including Shaban, take jobs by the day. Some work in construction, inside factories, or farm the region's land, which is known by locals as the town of 2 million palm trees for its thriving forestry. But building projects have paused and business ventures have been disrupted in light of ongoing political instability.
On Sunday, Shaban bought breakfast for two Egyptian pounds, roughly 35 cents, using money he borrowed from his nephew. The next day, he said, he would have to take money from a neighbor, "but they can't help me forever."
---