'Voice of Free Libya' battles Qaddafi – on air
Broadcasters once forced to praise Muammar Qaddafi as the "king of all Africa" open Libya's first uncensored radio station in decades.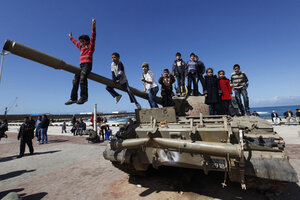 Hussein Malla/AP Photo
As rebel forces close in on Muammar Qaddafi, a band of radio colleagues who labored for years under complete media censorship have launched the "Voice of Free Libya" from Benghazi.
"I can't really describe what's happening. For 15 years here, I was ordered to talk about 'freedom' and 'democracy' by the government," says Khaled Ali, a radio host who was threatened with the death penalty a year ago after allowing callers to criticize Qaddafi's regime. "Before, those words were completely drained of meaning. Not anymore."
The Voice of Free Libya is a small, first step toward building the infrastructure of democracy as Qaddafi's one-man rule looks increasingly close to collapse.
Right now, the staff are living on their savings – and the tuna sandwiches that local Libyans show up with a few times a day. For residents of Benghazi, the station is almost the only way to get news about what's happening locally. A small four-page newspaper has also been started, but its distribution is limited.
The radio station is also reaching well beyond what's been dubbed as the capital of liberated eastern Libya. It broadcasts on three different wavelengths previously controlled by Qaddafi's government: 88.9 and 89.9 FM and an AM frequency that sometimes reaches as far as Tripoli.
A step too far for Qaddafi
Mr. Ali, one of the hosts on a show called "Good night Benghazi," remembers thinking that the program was headed for trouble the night he lost his job, but he and his coworkers couldn't help themselves.
---