Why Qaddafi can no longer terrorize Libyans
While Qaddafi is trying to retake cities held by the opposition, the stunning shift in mood in 'liberated' Libya has unleashed a new sense of freedom – and the courage to defend it.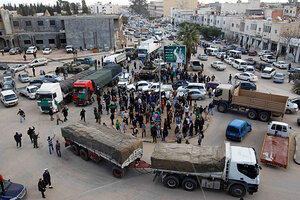 Chris Helgren/Reuters
Libya's revolution is far from finished, with Muammar Qaddafi holed up in Tripoli and seemingly unassailable, surrounded by well-trained paramilitary brigades that answer to his son.
In the past 24 hours he's made forays – so far unsuccessful – to bring rebellious towns near the capital under control and, in at least one instance, dispatched MIG-23s to the eastern town of Ajdabiya, belying previous assertions of Air Force officers that deserted him that Qaddafi had almost no air power left under his control.
But even as military analysts warn that the longer Qaddafi hangs on in Tripoli, the greater his chances of ultimate survival, in liberated towns in the east there's a stunning shift in mood. From ubiquitous graffiti mocking Qaddafi to middle-aged volunteers blaring a banned patriotic song as they drive through Benghazi, a new sense of freedom indicates that it will be hard for Libya's leader, who has terrorized his opponents for 41 years, to cow the populace ever again.
A younger generation has risen up not just here in Libya, but across the Arab world, shedding their own fears and then helping parents and older relatives to shed theirs. No ideology – not Islamism, or socialism, or any other "ism" – has yet to emerge as a driving force.
The theme that emerges here again and again is a desire for basic freedoms, a restoration of personal dignity, and never allowing a boot to be pressed on their throats again.
A steely student's new resolve
Take Saleh Darbak, a 20-year-old engineering student, who says he was protesting peacefully outside the Benghazi barracks when Libyan soldiers opened fire on Feb. 19.
---