Qaddafi's foray east fails to dampen Libya uprising
Forces loyal to Muammar Qaddafi pushed east today toward the oil town of Brega, but retreated west after clashes with 'Free Libyan' forces.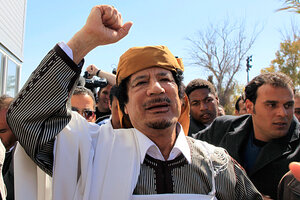 Ahmed Jadallah/Reuters
Forces loyal to Muammar Qaddafi made their first foray east since a popular revolt that started Feb. 17 but were repelled by "Free Libyan" fighters.
This morning, government forces moved into the coastal oil town of Brega, supported by fighter jets. Soon, fighting broke out between them and the town's irregular militias and some soldiers who defected from Mr. Qaddafi's military at the start of the uprising.
If Qaddafi could retake and hold Brega, it might reverse the uprising's momentum and open up an easy route to push further into the east, wooing fence-sitters to his side and threatening Benghazi.
RELATED: Libya uprising: 5 steps the world is taking
The young men and soldiers of Benghazi, Libya's second-largest city and the proclaimed capital of "liberated" eastern Libya, were determined not to let that happen, and rushed south.
Brega is located about 120 miles down the coast from Benghazi, and just 20 miles from the town of Ajdabiya, where MiG-23s dispatched by Qaddafi today and yesterday unsuccessfully tried to destroy a munitions dump.
By late afternoon, Qaddafi's forces had been driven out, according to members of the transitional government in Benghazi and two Libyans on the ground reached by phone.
50 men, one misfiring gun
---