On Libya-Tunisia border, refugees plead for help to go home
More than 95,000 refugees have crossed the remote desert border post at Ras Ajdir, Tunisia, in the past 10 days. President Obama said the US military would help transport home refugees from Libya, and the European Commission boosted aid.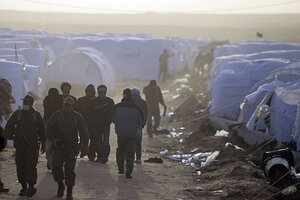 Lefteris Pitarakis/AP
The flow of refugees pouring into Tunisia to escape the upheavals in Libya slowed for a second day on Thursday, prompting questions about whether Libyan authorities were deliberately trying to stem the tide.
The refugee slowdown came as conditions worsened for thousands of Bangladeshis, already through the gates into Tunisia but trapped in dank open fields of sand without the means to get home.
President Obama on Thursday announced that the US military would send aircraft to transport refugees to their home countries. The European Commission boosted its aid tenfold to deal with the crisis, to 30 million euros (about $42 million).
"We hear reports that a few kilometers from the border, there is a large number of people, but I don't know why the Libyans don't let them go," says Tarek Ben Ali, an expert on voluntary returns with the International Organization for Migration (IOM) at the border.
"The urgent need is to help them repatriate, to let them know someone is helping them," says Mr. Ali.
More than 95,000 have crossed this remote desert border post in the past 10 days, and most have eventually been moved on by military-style fleets of chartered planes – in the case of the majority Egyptians and Chinese – or on ships from Tunisian ports.
The IOM estimates that nearly 200,000 have left Libya so far for Tunisia, Egypt, and Niger.
---