Libya preventing refugees from leaving as fighting escalates
'Libya no good!' chanted refugees who had already made it across the Tunisia-Libya border. The flow of refugees has suddenly dropped 80 percent.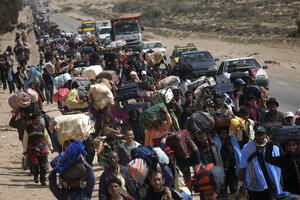 Emilio Morenatti/AP
Ras Ajdir, Tunisia-Libya border
Satellite photographs indicate that Libya is slowing the exodus of migrant workers west to Tunisia, stopping them just shy of the border where the flow of more than 90,000 refugees over the past 10 days has suddenly begun to dry up.
There has been an "artificial stop where the numbers have abruptly gone down 80 percent and no one knows why," said Andrew Mitchell, the British Secretary of State for International Development, as he visited a transit camp at this remote Tunisia frontier Friday.
"Two days ago 10,000 came across the border, and yesterday 1,863 came across the border," said Mr. Mitchell, noting that satellite data now being analyzed showed numbers of people at a point 10 miles from the border inside Libya. "There's been a change, and it doesn't feel right. It's too abrupt for it to be a natural change."
Tunisian military and police officers spoke to many who had crossed the border, but their accounts were "so contradictory" that they were unable to ascertain what was happening inside Libya.
"In humanitarian terms, that makes it extremely difficult to plan," said Mitchell. "We need to plan in a way that we can scale up rapidly for a humanitarian situation."
A human column of Bangladeshis
---