Iraqis stage 'day of regret' one year after celebrated elections
Iraq's coalition government has yet to fulfill Iraqi hopes and is on increasingly shaky ground. Iyad Allawi pulled out of a powersharing deal this weekend.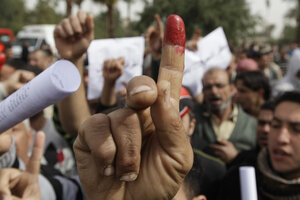 Saad Shalash/Reuters
Iraqis on Monday marked the one-year anniversary of national elections that were meant to unite them but have instead resulted in an increasingly shaky coalition government and what they say are a trail of broken promises.
In Baghdad's Liberation Square, several hundred protesters turned out in what they called a "day of regret." Students, professionals, and the unemployed waved fingers dipped in red ink for anger – a parody of the purple-stained fingers they proudly displayed last year as proof that they had voted on election day.
Some pretended to try to bite off their fingers as a sign of remorse for electing politicians they say have isolated themselves in the fortress-like green zone while failing to provide even basic services such as clean water and electricity.
Allawi pulls out of powersharing deal
While Prime Minister Nouri al-Maliki has become the favorite target of disdain, no politicians have escaped public anger. The weekly demonstrations, sparked by unrest starting in Tunisia and sweeping the Middle East, have also provided a catalyst for Mr. Maliki's political rivals to test the coalition government he cobbled together nine months after Iraqis went to the polls.
Former prime minister Ayad Allawi, the main Sunni-backed candidate whose Iraqiya bloc won two more seats than did Maliki's Shiite coalition, announced on the weekend that he was pulling out of a powersharing agreement.
The deal was brokered by US Vice President Joe Biden and backed by Kurdish leader Massoud Barzani to end the political crisis that had left Iraq without a new government for almost all of last year.
---