In Egypt's Tahrir Square, women attacked at rally on International Women's Day
After helping to overthrow Mubarak, Egyptian women – and some men – demonstrated today in favor of giving women more of a voice in building Egypt's future.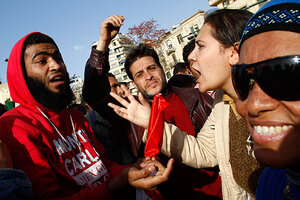 AP
A demonstration urging Egypt to give women a voice in building its future was attacked by a group of men Tuesday, delivering a stinging slap to the women who helped propel Egypt's uprising.
"We fought side by side with men during the revolution, and now we're not represented," said Passat Rabie, a young woman who came with friends, after men aggressively dispersed the protest. "I thought Egypt was improving, that it was becoming a better country. If it's changing in a way that's going to exclude women, then what's the point? Where's the democracy?"
Hastily organized on Facebook to coincide with International Women's Day, the protest was billed as a "Million Woman" march. But in fact, it attracted only about 200 demonstrators, mostly women but some men as well. The violent opposition they faced suggests that Egyptian women must fight their own revolution to achieve equal rights.
'Go wash clothes! This is against Islam!'
The demonstrators, who gathered in Tahrir Square – the epicenter of the revolution – had much to complain about: The military council ruling the country until new elections are held failed to appoint a single woman to the committee tasked with drafting constitutional amendments. One of the proposed constitutional amendments implies that the office of presidency is limited to men by saying that a president cannot be married to a non-Egyptian woman. And the only woman in Prime Minister Essam Sharaf's new government is from Mubarak's government.
---