Yemen protest violence seen as start of more intense confrontation
Two were killed and hundreds injured Saturday after security forces loyal to Yemen's 32-year President Ali Abdullah Saleh confronted protesters with tear gas, rubber bullets, and live ammunition.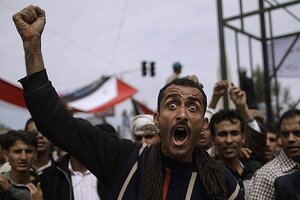 Muhammed Muheisen/AP
Fierce violence erupted early Saturday morning in Yemen's capital, Sanaa, marking what many here say is a turn toward far more violent confrontations between security forces loyal to President Ali Abdullah Saleh and the widening collection of those opposed to his rule.
In an early morning attack, security forces attempted to forcibly disperse thousands of protesters at Sanaa University with live ammunition, rubber bullets, and tear gas, injuring hundreds and killing two, according to witnesses and medical workers.
On Friday, the largest anti-government protest yet took place in the capital, with nearly 100,000 demonstrators gathering to call for the immediate resignation of Mr. Saleh, the 32-year leader who is a key US ally in the fight against Al Qaeda.
RELATED: Yemen rejects Saleh offer with biggest protests yet
Sanaa's rapidly expanding opposition, which has grown from hundreds of university students to tens of thousands of youth, tribesmen, Islamists, and opposition party members in the past month, has drastically increased pressure on Mr. Saleh to either confront the crowds or acquiesce to their demands. And now, with the possibility that armed tribesmen are heading into Sanaa from far-flung regions, it appears that Saleh has chosen to confront the crowds violently.
---