Why Libya's Qaddafi is unlikely to push much further east
Qaddafi claims to have taken the oil town of Brega on Libya's eastern front, although rebels – who appear to be developing a more cohesive strategy – say they outmaneuvered his forces and trapped them.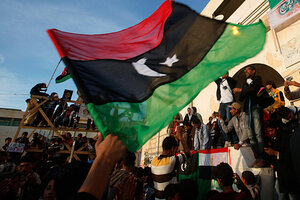 Suhaib Salem/Reuters
On Libya's eastern front, taking towns may be easy for Col. Muammar Qaddafi – but holding them is something else again.
After days of being pounded by rocket fire and bombing runs from forces loyal to Qaddafi, Libya's rebel army piled into their pickup trucks yesterday afternoon and cut a ragged retreat from the oil town of Brega to Ajdabiya, 40 miles to the east. They left mounds of ammunition and supplies behind them as they fled, Qaddafi's fighters surging behind.
That was all according to plan, says Mohammed el-Majbouli.
"We drew [Qaddafi's forces] forward, and then we maneuvered behind them and trapped them," says Mr. Majbouli, a former member of Qaddafi's special forces who is now organizing rebel fighters.
He says a reserve force of rebels with military training had been hidden in homes in the eastern third of the sprawling petrochemical complex at Brega. After the Qaddafi men passed at about 8 p.m. last night, the rebels came out, retaking the town as well as about 20 prisoners from Qaddafi's forces.
Majbouli's claim of victory, which is also made by senior officers who have defected to the rebel cause, could not be independently confirmed. But if he is right, it would be the fourth time Brega has changed hands in less than two weeks, emphasizing the strange, shimmering nature of the conflict being fought in Libya's coastal desert.
While it remains easy for Qaddafi to rain mortars and rockets on rebel checkpoints, he doesn't appear to have more than a few thousand men, at most, committed to his eastward advance. Without indiscriminate fire on the cities of Ajdabiya or Benghazi – just the sort of act that might galvanize the international community into action, which Qaddafi is likely keen to avoid – it's hard to see his forces advancing quickly much farther east.
---