Qaddafi's forces encircle last city before rebel capital
According to rebels, Qaddafi's forces now control two of the three exits from the city leading into rebel territory from Ajdabiya and are attacking densely populated civilian areas, including a hospital.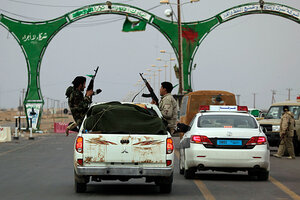 Jerome Delay/AP
The rebel-held Libyan city of Ajdabiya has come under a withering rocket and warplane assault from Muammar Qaddafi's forces as leaders of the stalled revolution continued to plead for an international no-fly zone. Mr. Qaddafi's son boasted that the revolt would soon be crushed.
According to rebel information, Qaddafi's forces appear to be encircling the city and attempting to squeeze the rebels inside – a strategy that is being bolstered by tanks on the ground and could significantly increase the civilian toll and cut off rebel supply lines.
In Benghazi, the de facto rebel capital 90 miles away, supporters of the uprising are afraid that their city of 1 million could well be next. United Nations Secretary-General Ban Ki-moon released a statement today warning of an impending assault on Benghazi, and said such action "would massively place civilian lives at risk."
"We're being killed, our families slaughtered," says Zaid, a man who says he's been advising the rebels on desert warfare and didn't want his full name used. "The international community is just watching, like it usually does. Somalia, Palestine, Libya, it makes no difference to them."
There were hints that all of this could prompt foreign countries, which have avoided direct action until now, to intervene. French President Nicolas Sarkozy pushed for the UN Security Council to declare a no-fly zone to protect the rebels, and US Secretary of State Hillary Clinton implied the US is not opposed to the use of force to stop Qaddafi.
---