Qaddafi threatens Libya rebels as UN no-fly vote nears
Muammar Qaddafi promised 'no mercy' for defiant Libyans, as the UN Security Council prepares for a vote on a resolution that would allow for aggressive action against his forces.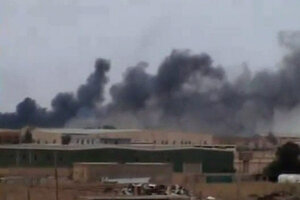 Amateur video via APTN/AP
Libyan leader Muammar Qaddafi, whose tanks and planes have pounded rebellious cities in recent days, took to state radio this evening to bark threats at the residents of Benghazi while the United Nations Security Council deliberated whether to approve military action against his regime.
The Security Council is set to vote on a resolution this evening that would impose a no-fly zone over Libya but that also has language that goes far beyond that.
The draft, written by the US, France, and Lebanon, calls for "all necessary measures short of an occupation" to be taken to protect Libyan civilians. Some analysts in Washington say that will amount to a "no-drive" zone, in which Qaddafi's tank movements and troops could be targeted from the air if they make more aggressive moves toward eastern cities.
Rising calls for international air power
In Benghazi, the capital of the uprising against Qaddafi's 41-year reign, there has been a shift in mood over the past week.
---