Arab world divided on Libya no-fly zone
The Arab world is largely supportive of Libya's rebels and a no-fly zone to protect them, but is unsure how it feels about Western intervention on their behalf.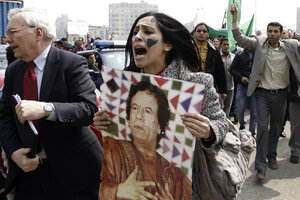 Amr Abdallah Dalsh/Reuters
The US and allied bombing raid that began this weekend opened a floodgate of competing emotions across the Arab world, which supports the Libyan rebels but is wary of more Western intervention in the region.
Arabs are watching the strikes against Muammar Qaddafi's regime with a blend of relief for the help to outgunned rebels, trepidation about ulterior motives of Western intervention, and envy in volatile countries where calls for international backup have gone unheeded.
The Arab League initially supported the campaign but began to back away Sunday, calling a crisis meeting after the group's chief, Amr Moussa, told reporters that the league had endorsed a no-fly zone, not bombings. The confusion over what a no-fly zone entails persisted among ordinary Arabs, too, as Libyan state television reported at least 48 civilian casualties, a figure that couldn't be independently verified.
"My whole generation grew up with Desert Fox in '98 all the way up to the Iraq war, and then the Israeli occupation as well, so that tends to feed into a desire not to see Western political or military intervention," said Heba Morayef, of the Cairo office of Human Rights Watch. "In the case of Libya, however, it's more complicated."
---