In Yemen, top military commanders defect from Saleh regime
Yemeni President Ali Abdullah Saleh's half-brother defected today, deploying troops to protect demonstrators. Friday's unprecedented violence led eight diplomats to resign.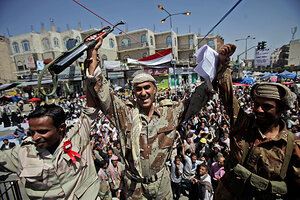 Muhammed Muheisen/AP
Several of Yemen's top military commanders – including President Ali Abdullah Saleh's half-brother – defected today, pledging to protect opposition demonstrators after unprecedented violence in Sanaa on Friday.
The defections, which follow the resignations of eight ambassadors over the weekend, remove a critical base of support for the 32-year leader. (Editor's note: The original version overstated how many people resigned this weekend.)
While protesters in Sanaa were jubilant, Yemenis and analysts expressed concern that the developments could foreshadow a military coup or the outbreak of war between the country's fractured armed forces.
Think you know where Yemen is? Take our geography quiz.
"Saleh's options have been becoming more limited by the day," says Gregory Johnsen, a Yemen specialist at Princeton University. "Now there are two left – he can try to hang on, which will likely lead to bloodshed, or he can step down."
For now, at least, Saleh appears determined to stay in power. His defense minister vowed today that the armed forces would remain faithful to Saleh.
"We will not allow under any circumstances an attempt at a coup against democracy and constitutional legitimacy, or violation of the security of the nation and citizens," said the statement, according to Reuters, which obtained a copy.
Ahmar deploys troops to protect protesters
Maj. Gen. Ali Mohsen al-Ahmar, the president's half-brother and longtime ally until today, led the military defections with a televised news conference announcing that he had deployed forces to protect demonstrators.
---