Palin visits Jerusalem, reaching out to Israel's right
Sarah Palin visited Israel in what may have been an attempt to up her foreign policy credentials and build a rapport with Israeli leaders increasingly at odds with Obama.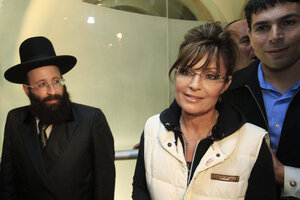 Ronen Zvulun/Reuters
Following a path tread by many a US presidential hopeful, former Alaska Gov. Sarah Palin is making her first visit to Israel. Today, she toured the Old City of Jerusalem wearing a Star of David necklace before arriving at Prime Minister Benjamin Netanyahu's residence for a private dinner.
Though the visit is being described as private, Ms. Palin's three-day stop on the way home from India could both burnish her thin foreign policy credentials and curry favor with Jewish and evangelical constituencies back home.
After a rocky two years with President Barack Obama's administration, Palin's visit is an opportunity for Netanyahu to size up another prospective Republican candidate for president who is enthusiastically pro-Israel. Last month, the Israeli Prime Minister met with former Arkansas Gov. Mike Huckabee.
---