Qaddafi's regime paints Libya air strikes as assassination attempt
But some eyewitnesses raised doubt about whether a purported strike last night in Qaddafi's compound ­had in fact been the precise target.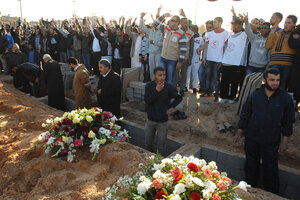 Scott Peterson/Getty Images
Libyan officials are seeking to change the airstrike narrative of "protecting" Libyan civilians to one of US and European aircraft deliberately targeting Col. Muammar Qaddafi for regime change, after a cruise missile struck the leader's compound in central Tripoli.
Late Sunday a plume of smoke rose over Colonel Qaddafi's compound. Coalition sources said the target was a military command center; Qaddafi supporters said the West's aim was assassination.
"It is extremely close to the leader's tent, and a house that was bombed by the Americans in 1986," said government spokesman Mussa Ibrahim at the site, according to Reuters. "They said that they will not attack this place because there are civilians here, and they said they do not have intention to kill the leader, Qaddafi."
Allied sources said that they struck a military control center at the site. They added that Qaddafi himself was not a specific target, but rather his forces, which had pummeled rebels for the past week in an attempt to regain rebel-held territory in the east – including the key oil towns of Ras Lanuf and Brega.
After Qaddafi's forces captured Ajdabiya, the last major city on the road to the de facto rebel capital of Benghazi, the United Nations Security Council passed a strong resolution authorizing "all necessary means" to protect civilians from Qaddafi's advances.
---