Libya's rebels struggle to retake territory, despite UN help
A key test of whether Libya's rebels will be able to make headway is Ajdabiya, a hotbed of anti-Qaddafi sentiment. So far, it's not looking promising for the rebels.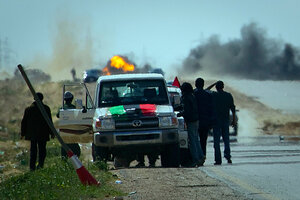 Anja Niedringhaus/AP
International airpower has stemmed Muammar Qaddafi's march into Libya's east, reinvigorating hope and resolve in the rebel capital of Benghazi, which was on the verge of being overrun on Saturday when French, US, and British warplanes sprang into action.
"We'd lost hope," says Ahmad Dabbous, a clothing wholesaler who's been carrying a rifle for 30 days now. "But Obama stood with us. Now I can't see Qaddafi moving east again."
Now comes the real test. So far, the international support hasn't given the rebellion's lightly armed and largely untrained militia the ability to drive Colonel Qaddafi's forces from population centers they claimed in a series of brutal assaults.
If the rebels are unable to make headway and Qaddafi remains defiant, international forces could face the unhappy choice between abandoning the uprising or committing to a much longer engagement than originally envisioned.
Rebels struggle to retake Ajdabiya, an easy target
A key test is Ajdabiya, a hotbed of anti-Qaddafi sentiment and the last major city on the road to Benghazi, the de facto rebel capital.
The international coalition's aerial superiority makes another Qaddafi offensive on Benghazi improbable. That much is clear from his destroyed tanks and grad missile launchers on the road to Ajdabiya, with turrets blown off and pools of congealed metal beside them.
---