Syrian protests turn more violent
Activists say Syrian forces opened fire on mourners today in Deraa, but the government blamed 'armed gangs.' At least 13 people have been killed since protests started last Friday.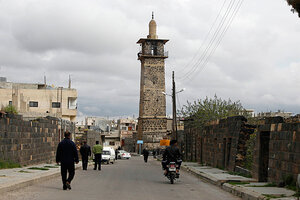 Khaled al-Hariri/Reuters
Syrian activists say that security forces opened fire on a crowd of mourners in the southern city of Deraa on Wednesday, hours after they stormed a mosque that has become the focal point of six days of antiregime demonstrations.
At least two people were reportedly killed in the shooting, raising the death toll to 13 since protests erupted in Deraa five days ago. Mourners were attending the funeral of two of six people killed Tuesday night when security forces reportedly entered the Omari mosque, which has become a field hospital and shelter for casualties of the past week's demonstrations.
Although the chants of the Deraa protesters echo those of other uprisings in Tunisia, Egypt, Yemen, and Bahrain in calling for reforms and freedom, the Deraa residents are also railing against many local grievances.
They have demanded the removal of Faisal Kalthoum, the governor of the Deraa Province, whom they accuse of corruption and incompetence, and Atef Nagib, the local head of political security and a cousin of Syrian President Bashar al-Assad. Mr. Kalthoum has been dismissed, but Mr. Nagib is believed to still hold office.
---