In Libya, a campaign to confuse
Libyan leader Muammar Qaddafi, with his claims of total popular support and theatrical displays at bombing sites, treads a fine line between rhetoric and reality.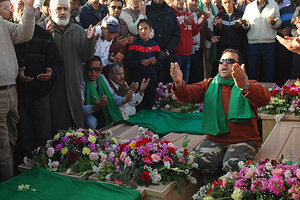 Scott Peterson/Getty Images
Libyan leader Muammar Qaddafi decries Western airstrikes as a "new crusader battle" and calls upon "all Islamic armies" to assist in a momentous fight. On the eve of the air campaign one week ago, the regime issues a statement: If attacked, Libya would "expose all air and maritime traffic" in the Mediterranean Sea to counterattack.
But like much in Mr. Qaddafi's Libya today – including the declared total popular support of the enigmatic "Brother Leader" himself – the rhetoric often appears disconnected from reality.
From Qaddafi's certainty that "all my people are with me, they love me all," to cease-fires declared and ignored, the Libyan leader might appear to be waging a campaign of confusion against his enemies. The seed of such a strategy may be evident in the Green Book, the colonel's 35-year-old guide to political philosophy, which itself embodies – perhaps purposefully – the contradictory and abstruse nature of the long-serving strongman.
In the latest example, on Friday, officials seeking to prove the scale of the damage drove foreign journalists east from Tripoli – passing two smoldering military facilities visible from the road on the way – only to stop at a rural residence where a missile of some type had landed in a front yard.
People who called themselves witnesses told different stories about the event, in which one person – or none – was injured. US-made missile parts littered the area, and there was clear evidence of an impact with shrapnel. But the site may have also been made to look more convincing with what appeared to be gunfire sprayed against some outside walls and white plaster thrown onto interior floors.
Libya's true believers
---