Libyan forces claim 'liberated' Misratah, but rebellion abounds
All the Libyan military could show on Monday was that they controlled a portion of a main thoroughfare in the city, which lies 125 miles from Tripoli and has seen weeks of clashes.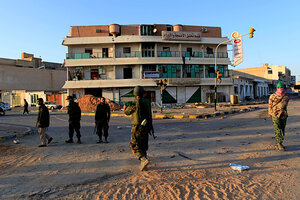 Ahmed Jadallah/Reuters
The Libyan military sought to project an air of confidence around the rebel-held enclave of Misratah on Monday, falsely claiming victory in the western city even as antiregime forces continued their dramatic advance from the east.
Promising a trip to "liberated Misratah" – Libya's third-largest city, located 125 miles east of Tripoli – Libyan officials brought foreign journalists at dusk to a point 1.5 miles south of the city center to witness a celebration by scores of people waving green flags and posters of Libyan leader Muammar Qaddafi.
"We'll catch them one by one, like rats," said Ahmed Abdel-Salam, a young volunteer militiaman wearing mismatched camouflage and a green headwrap with the lettering: "God, Muammar, Libya – only!"
Libya's state-run TV cameras were already set up to record the moments of joy along a length of the main Tripoli Street that has clearly seen heavy fighting.
The Libyan Foreign Ministry on Monday announced a cease-fire against "terrorist groups" in the city, according to Libya's state-run news agency. "The city of Misurata now enjoys security and tranquility and public services have started to recover their ability to provide customary services to all citizens," it said.
Fireworks were set off in the capital on Monday night, in further celebration.
Signs of rebellion easy to see
---