Can Libya's people be protected if Qaddafi stays?
Libya's rebels, many of whom have stories of loved ones lost to Muammar Qaddafi's regime, are driven by his legacy of torture, murder, and disappearances.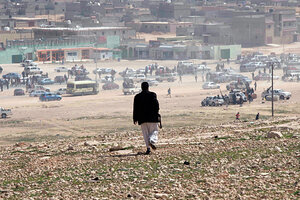 AP
President Obama may have equivocated last night – saying the international bombing campaign against Muammar Qaddafi's forces is not about forcing regime change while insisting that Mr. Qaddafi must "step down from power."
But in Libya's rebel capital there's little doubt about his intent. UN Security Council Resolution 1973 authorizes "all necessary measures … to protect civilians" and here in Benghazi, the rebel government and ordinary civilians say there can be no true protection as long as Qaddafi remains in power.
"If you go to Tobruk, Marj, Benghazi, Zawiya, anywhere in Libya, you'll find a family that has lost someone to this man," says Abdel Kader Kadura, a law professor at Benghazi's Garyounis University. "For us, for Libya, there is one killer. Qaddafi. It doesn't stop until he goes."
Consider the courthouse along Benghazi's waterfront. It's often described as the seat of Libya's rebel government. But its true symbolic power lies in the graffiti and posters that adorn its walls and the small plaza it fronts, an outpouring of expression that's become something of a shrine.
---