Do Israel's recent efforts to bolster security undermine its democracy?
A spate of recently-passed bills in the Israeli Knesset are seen by sponsors as necessary for the state's security, but critics say they infringe on civil rights.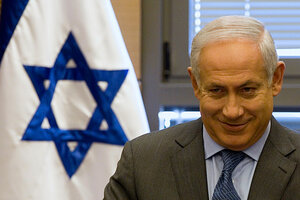 Bernat Armangue/AP
A flurry of votes in Israel's parliament on controversial legislation affecting the country's Arab minority is reigniting a debate about whether the right-leaning majority is trampling democratic norms in an effort to bolster the security of the Jewish state.
The parliament, known as the Knesset, on Monday night passed into law an amendment to the country's citizenship law to allow the state to strip the citizenship of anyone convicted of espionage, terrorism, or "disloyalty" to the state.
The vote came just days after the Knesset passed a law giving the state the power to fine publicly funded organizations that acknowledge the Palestinian catastrophe, or "Nakba" in Arabic, as part of Israel's independence, or that deny Israel's identity as Jewish and democratic. Another recently-passed law gives small rural communities the power to reject new residents if they would disrupt the demographic homogeneity of a town.
Think you know the Middle East? Take our geography quiz.
The bills are sponsored by the nationalist Yisrael Beiteinu party, headed by Foreign Minister Avigdor Lieberman, who critics say has emerged as a driving force behind the policies of Prime Minister Benjamin Netanyahu's government. Though some argue the legislation is viewed as a reasonable defense of an embattled democracy, Israeli civil rights activists say the bills are a blow to minority rights and other civil liberties.
---