Qaddafi likens Western airstrikes to 'Hitler's campaigns'
Amid London talks on Libya's future, Qaddafi shows no signs of stepping down and loyalist troops today repelled the westward advance of rebels who had gotten nearly to Sirte, Qaddafi's hometown.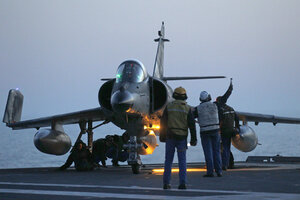 Benoit Tessier/Reuters
Libyan government loyalists on Tuesday repelled the westward advance of rebels, sapping their momentum and adding urgency to London talks on how to resolve the Libyan conflict.
Bolstered by Western airstrikes, the rebels had been moving rapidly toward Muammar Qaddafi's hometown of Sirte after retaking the key eastern city of Ajdabiya over the weekend, recapturing the oil towns of Brega and Ras Lanuf along the way.
But that advance stopped on Monday some 20 miles east of Sirte, where rebel forces – which have proven themselves to be disorganized and sometimes dangerously bold – ran into the defenses of the strategically important city. In a panicked retreat under fire on Tuesday, the rebels reportedly moved back to the hamlet of Bin Jawwad, just west of Ras Lanuf.
"There aren't a lot of us in Bin Jawwad right now," rebel Faisal Ali told the Associated Press. "If [Qaddafi] has enough firepower and forces using tanks, he will surely take over Bin Jawwad."
Qaddafi decries 'barbaric, unjust offensive'
---
Follow Stories Like This
Get the Monitor stories you care about delivered to your inbox.