Qaddafi claims Al Qaeda could overrun Libya. Could it?
While most experts say Qaddafi is grossly exaggerating the influence of Al Qaeda, new questions are being raised about its true scope as Washington debates arming the opposition.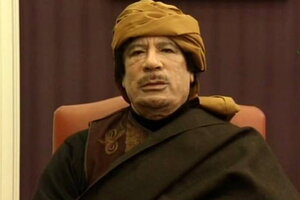 TRT/AP
The young Qaddafi loyalist wove together a grim tale that fits the official Libyan narrative perfectly. Al Qaeda fighters torched his home in the rebel-held enclave of Misratah, he claimed, and then killed his father. The crazed Islamists, he charged, were dismembering their victims.
"May God be my witness, it is true!" shouted Osama bin Salah, pointing to the sky.
Since Libya's popular uprising began in mid-February, Col. Muammar Qaddafi has repeatedly declared that this rebellion is different: He is not facing pro-democracy activists who want to end his four decades in power, but Al Qaeda militants determined to make Libya a base for global jihad.
"This is the Al Qaeda that the whole world is fighting," warned the Libyan leader, who demands that the Western-led alliance help him fight a common enemy instead of decimating his military apparatus.
Yet as debate commences in Washington about arming antigovernment rebels – men who largely hail from eastern Libya, which per capita sent more Islamist fighters to Iraq in 2006-2007 than anywhere else – questions are being raised about the true scope of Al Qaeda's influence among the Libyan opposition.
---