What Qaddafi loses with Moussa Koussa's defection
Foreign Minister Moussa Koussa, who as former intelligence chief is intimately familiar with Qaddafi's most notorious operations, defected from the Libyan regime yesterday.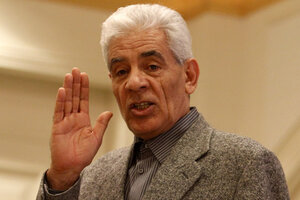 Chris Helgren/Reuters
The Libyan leader Muammar Qaddafi received a double blow overnight Wednesday, with the defection of Foreign Minister Moussa Koussa – one of his closest confidants – and news reports that CIA operatives were now working alongside antigovernment rebels in eastern Libya.
Few officials know as much about the inner workings of the Libyan regime as Mr. Koussa, who was Colonel Qaddafi's intelligence chief for 15 years and liaised with the CIA during the destruction of Libya's weapons of mass destruction programs and Libya's subsequent embrace by the West.
Analysts say Koussa's defection to Britain yesterday – coupled with reports on Al Jazeera English that four more senior Libyan officials are already in neighboring Tunisia, ready to defect – is likely to sow doubt in Qaddafi's inner circle, despite their recent military gains.
"Moussa Koussa was the closest ally of Qaddafi. He was not just the architect of his foreign policy, he was the architect of his security operations, in particular overseas," says Fawaz Gerges, director of the Middle East Centre at the London School of Economics (LSE). "If there is one person who knows all the dirty tricks of the Qaddafi regime, it is Koussa. That's why Koussa's defection represents a hard blow to Qaddafi himself; he's an integral part of the Qaddafi inner circle."
---