Syrian protesters face more violence in campaign against Assad
At least 12 protesters were reportedly killed today in demonstrations across Syria, where greater instability could alter the balance of power in the Middle East.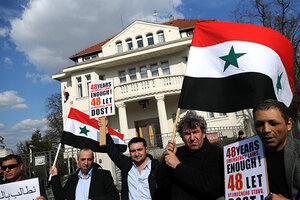 Jakub Dospiva/CTK/AP
Facing its gravest domestic crisis in decades, the Syrian regime of Bashar al-Assad appears to have chosen force instead of reform to confront antiregime protests.
His forces clashed again with protesters Friday, reportedly killing at least a dozen people who participated in rallies in defiance of regime warnings and a heavy security presence.
In an uncompromising speech this week, Mr. Assad failed to deliver a widely expected package that would introduce change, perhaps even end nearly 40 years of draconian emergency laws, and bring some degree of political realignment to the country that his minority Alawite sect has ruled since the early 1970s.
The demonstrators, who have been inspired by the uprising throughout the Middle East, were dismayed and angered by the speech. And they have vowed to press on.
"No one is immune in the region," says Ayman Abdel-Nour, a prominent Syrian activist and former Assad adviser now living in exile in Dubai, United Arab Emirates. "This is a new wave and a new atmosphere, and the young, the unemployed, the poor, the regular citizens have realized that they have rights."
---